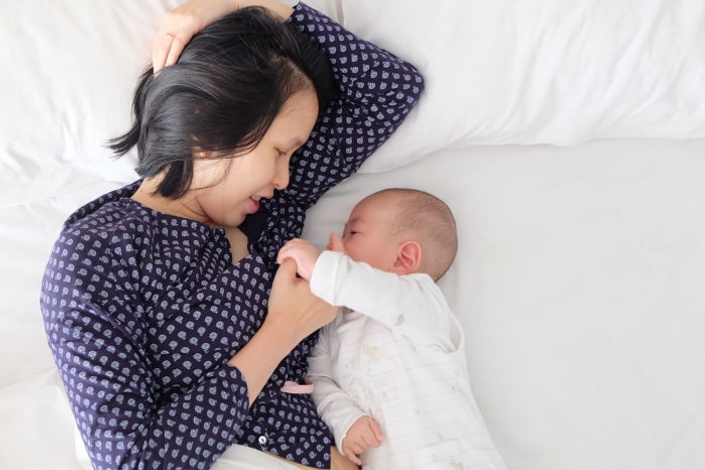 The Instructor Training Programme
Would you like to transform births (and lives) and make a living doing it?
The big secret we're ready to reveal is that birth can be POSITIVE. It can be a truly amazing, life-changing experience for mum, baby and birthing partners alike.
Yes, it can be bloody tough and full of challenges, but if that woman walks in fully prepped, and fully CONFIDENT, she can boss that birth.
That's where we come in. No, that's where YOU come in.
But we'll get to that. Let's start by sharing a bit more about The Calm Birth School (the reason we're all here today).
The Calm Birth School started life as a four week antenatal video program, guiding women and their birth partners to create calm, joyful births from anywhere in the world. Once the success of the programme had been noted by people across the world, we started to get enquiries about actually teaching face to face classes and so The Calm Birth School Instructor Training programme was born! Since we opened the doors in 2015, we're thrilled to say we've supported thousands of calm births (either on line or face to face via one of TCBS Instructors).
Wouldn't you just love to build a blazing career of your own, offering such transformational experiences?
If you're thinking "OH MY! This is exactly what I've been waiting for!!", we can't wait to share this opportunity for you to come and join our amazing team of The Calm Birth School Instructors.
To become "one of us", you will need to complete our online training programme AND a 2 day face-to-face workshop, for individuals who want to teach women and their birth companions to experience birth with POSITIVITY, CONFIDENCE and CALM.
Introducing… The Calm Birth Instructor Training Program
Our training program consists of 5 online modules and a 2 day in-person workshop. This training will give you everything you need to create your own successful hypnobirthing business.
The online modules will arm you with everything you need to know about hypnosis and birth. You'll also work through activities designed to up your confidence and get you thinking like an instructor, supported by our exclusive Facebook community filled with facilitators and fellow students.
The offline workshop will equip you with all the confidence and teaching tactics you'll need to offer your own hypnobirthing sessions. This will not be a training like any other - you'll have the opportunity to practice your skills, as well as building the foundations for a profitable business you can be proud of.
We'll be covering every step of The Calm Birth Method as well as:
Connection & Confidence
Affirmations
Listening
Marketing & Mindset
Breathing
Interaction
Relaxation Techniques
Teaching Techniques
Hypnobirthing
And to support you in running your own successful business, we'll be providing mentoring as well as giving you access to a bespoke mindset & marketing programme, designed just for you.
Here at The Calm Birth School, we're looking for a certain type of person to join the family.
Read our manifesto to find out if that's you: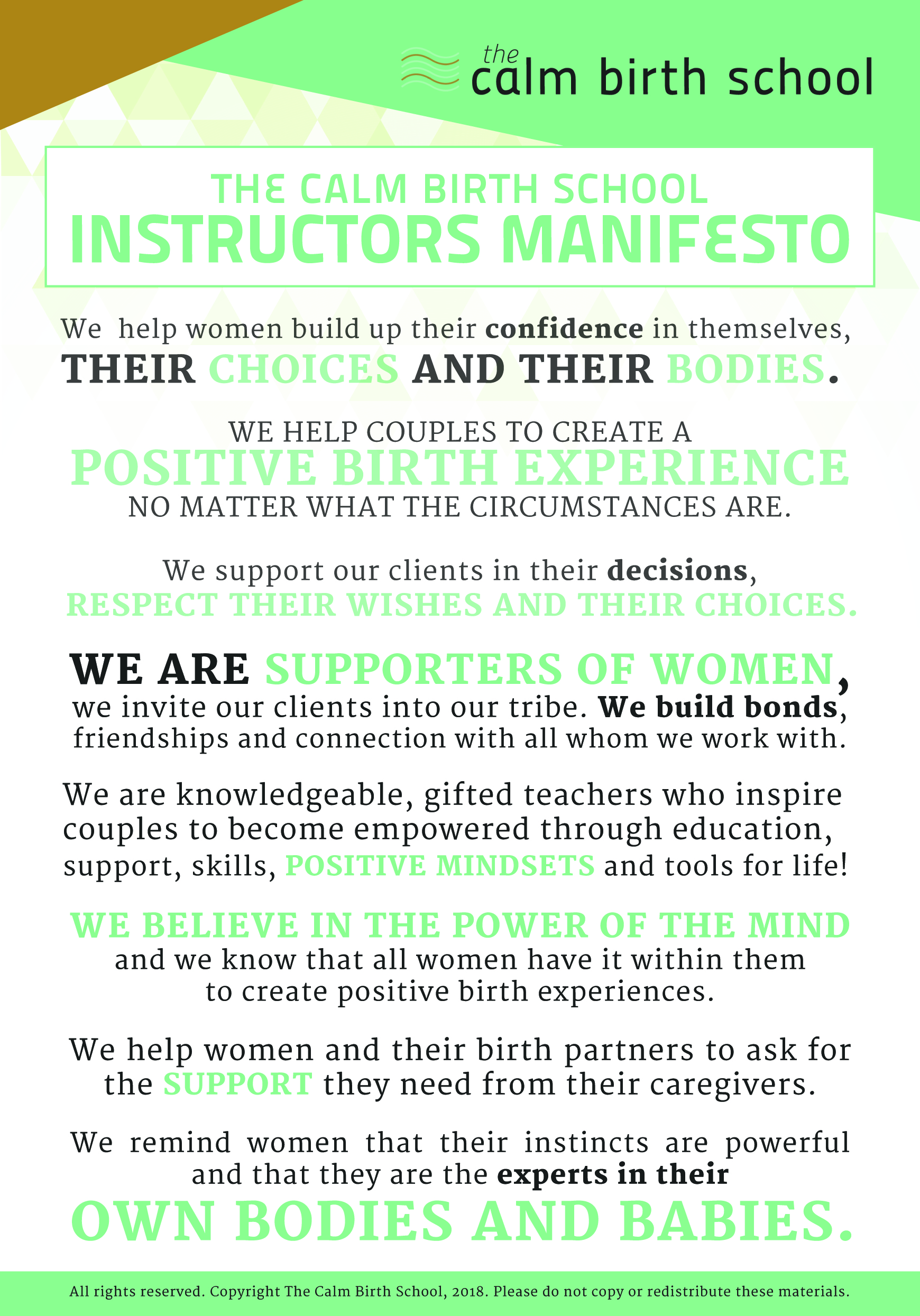 We want someone who embodies our ethos and values. This is not something we can teach - it's part of who you are. That's why we invite anyone who's interested to apply, before jumping on a quick call to make sure this is the right fit for you.
Frequently asked questions
When will the training take place?
Take your pick from the course dates below in the UK;
6th January-March with the face to face on 14th & 15th March

9th March- May with the face to face on 23rd & 24th May

11th May- July with the face to face on 11th & 12th July

7th September-November with the face to face on 14th & 15th November
Or in Dubai;
1st February-March with the face to face on the 17th & 18th April
Where will the face-to-face workshop be held?
In the UK at The Regency Hotel, Solihull, West Midlands, B90 4EB

In Dubai (venue to be decided)
Who will deliver the training?
The Hypnosis & Techniques module are delivered by hypnobirthing expert, clinical hypnotherapist and owner of The Calm Birth School, Liz Stanford.
The Birth Basics module is delivered by experienced midwife and hypnobirthing instructor Hannah O'Sullivan (aka The Calm Birth Midwife).
The face-to-face workshop will be facilitated by Liz Stanford, who will also guide you through the mindset and marketing aspects. This is an essential part of our instructor program - we want you to become confident teachers AND confident business owners.
Am I the right fit for The Calm Birth School team?
If you've always known (no matter how deep down) that you'd like to do something worthwhile in this world…
If you're confident you've got what it takes to create a booming business (even if you don't know how to make that happen right now)…
If you've been dreaming of a career that both inspires you AND fits around your family…
If you have the desire to share a secret that transformed your own birthing story…
If you already have a "baby business" but would love to offer an additional service to your clients…
If you answered a BIG FAT YES to any of those-
What happens when I complete The Calm Birth School instructor program?
Once you've completed the activities and assessments included in the course along with the 2 day face to face, you will officially be part of The Calm Birth School family!!
This means that you will:
be part of an amazing community of supportive TCBS instructors, spurring you on and building you up!

have access to The Calm Birth School instructor site, where you can order or print materials

have a membership to our bespoke marketing & mindset programme, to propel your business forward in every way

have a listing on The Calm Birth School website so that clients can find you

take part in quarterly training and workshops to continue developing your knowledge

have an exclusive 5 miles radius to teach in (*not currently applicable for Dubai)!
How do I get in on this??
I can't wait to hear from you!
Liz x
Your Instructor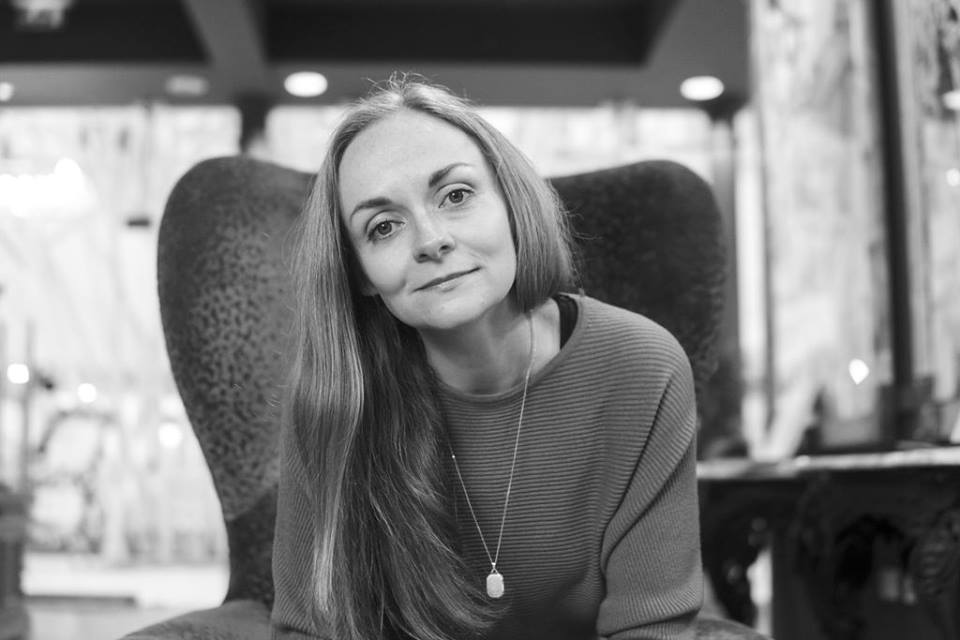 Hi, I'm Liz!
I own The Calm Birth School, I am a hypnobirthing teacher, trainer, clinical hypnotherapist and soon to be a Mindset Academy Coach.
I became pregnant with my first child at the age of 27 and was so terrified of what lay ahead of me for the next 9 months (and beyond) that I began reading all I could about pregnancy and birth. I empowered myself with knowledge and felt more in control. I had a fear that the pain of childbirth would be so great that I would not cope and would need all the drugs going. This was not an avenue I was willing to pursue so I scoured the Internet and came across Hypnobirthing. I signed up immediately to the classes some 20 miles away and immersed myself in the philosophy and technique. My beautiful daughter was born in August 2007 and although I did require intervention, I fulfilled my desire not to have drugs and felt relatively in control for most of the labour. The moral of the story is that despite the complications, I knew it was possible to birth easily and safely and that I would achieve it next time round!
In 2009 I gave birth to my gorgeous son with whom I achieved the most wonderful calm, drug free, intervention free birth I had desired! As with my daughter the support from my Birthing Companion (my husband) was the foundation of my success. I was home from hospital the same day and felt fantastic.
These two experiences and my continued interest in pregnancy, labour, birth and babies inspired me to train as a Hypnobirthing instructor in April 2011. I really love the hypnobirthing. I have now been teaching for 8 years!
I have since given birth to my 3rd child using Hypnobirthing which was another wonderful experience (which certainly had some challenges!)
I believe that all women should be allowed to birth in the manner that they wants but these decisions should be made after all the facts (pros and cons) have been addressed. Women need to be supported in their choices and feel empowered by the knowledge/information they receive from their peers or antenatal educators.
In 2018 I took over The Calm Birth School and my desire is to spread the values of TCBS across the world to ensure that more and more women experience birth in a positive way!
Click here to find out more about The Calm Birth School!
Course Curriculum
Introduction
Available in days
days after you enroll
The Calm Birth Method Book
Available in days
days after you enroll
The Calm Birth School MP3's
Available in days
days after you enroll
Frequently Asked Questions
How long do I have access to the course?
How does lifetime access sound? After enrolling, you have unlimited access to this course for as long as you like - across any and all devices you own.
This course is closed for enrollment.